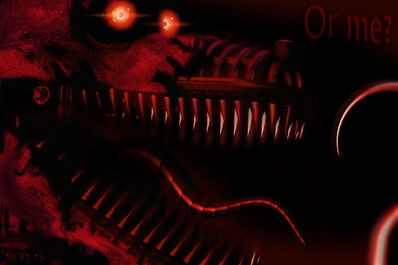 At last! The wait is over!
Now I see what took Scott so long; the tounge!
If you've ever worked with 3D modelling before, you'll know that creating something like that that can bend realistically, you need every segment to have it's own bone.
But yeah, IT'S SUPER SPOOKY!
What's weird though, is when you brighten it up.
That doesn't say "Nightmare". It clearly ends with an "R".
What I think it does say, is  "OUTOFORDER"
Strange.
I'M SO HYPED!!
Ad blocker interference detected!
Wikia is a free-to-use site that makes money from advertising. We have a modified experience for viewers using ad blockers

Wikia is not accessible if you've made further modifications. Remove the custom ad blocker rule(s) and the page will load as expected.