About Five Nights at Freddy's
Five Nights at Freddy's is a horror game that features you as an underpaid worker at Freddy Fazbear's Pizza, a Chuck E. Cheese-type family pizza place, hired for an incredibly fulfilling job as a night guard.

Five Nights at Freddy's has a very mysterious story, which can quickly become confusing. Our goal on this wiki is to keep the information as clear and precise as possible to avoid confusion or rumours. All of our information is tested multiple times before being added to any articles, so please be sure you test any new information you have to bring to the table. It's so easy to get lost and confused in these games, so let's work together to keep things clear, precise, accurate, and easy for everyone to understand. Please be sure to read the Rules and Guidelines for more before you begin editing. Thank you!
Are you looking for information about FNAF World?
Check out the FNAF World Wiki!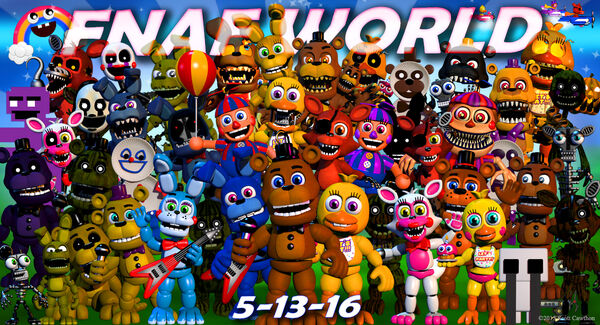 Who is the scariest animatronic from the new Five Nights at Freddy's: Sister Location trailer?
See more at the Poll Archive
Create blog post
Blogs
IM HAVING EXAMS

DONT WORRY ONLY 1 MORE WEEEEEEEEEEK

in the meantime ill upload stuff to fill the gap in your chest that only the wikia contributer can fill.

Read more >

this is huge!!! I'm freaking out!!! there is new text in the source code for Scottgames.com and fnafworld.com.

the text from scottgames.com:

You are crowding us.

you can't tell us what to do anymore.

we …

Read more >

Been a while since I last visited the wikia....

It seemed like it was only a few weeks ago the Wikia chat was still full and thriving with people making jokes and CaH Games... Blogs getting hundereds …

Read more >
See more >
Ad blocker interference detected!
Wikia is a free-to-use site that makes money from advertising. We have a modified experience for viewers using ad blockers

Wikia is not accessible if you've made further modifications. Remove the custom ad blocker rule(s) and the page will load as expected.