About Five Nights at Freddy's
Five Nights at Freddy's is a horror game that features you as an underpaid worker at Freddy Fazbear's Pizza, a Chuck E. Cheese-type family pizza place, hired for an incredibly fulfilling job as a night guard.

Five Nights at Freddy's has a very mysterious story, which can quickly become confusing. Our goal on this wiki is to keep the information as clear and precise as possible to avoid confusion or rumours. All of our information is tested multiple times before being added to any articles, so please be sure you test any new information you have to bring to the table. It's so easy to get lost and confused in these games, so let's work together to keep things clear, precise, accurate, and easy for everyone to understand. Please be sure to read the Rules and Guidelines for more before you begin editing. Thank you!
Are you looking for information about FNAF World?
Check out the FNAF World Wiki!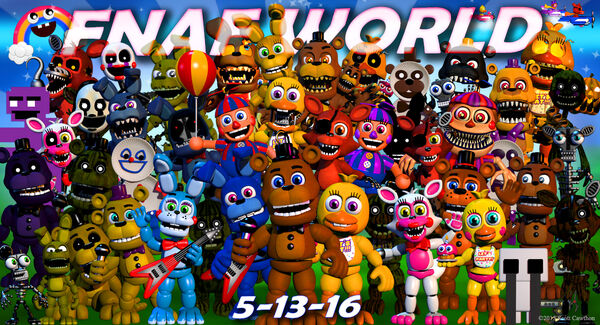 Who is the scariest animatronic from the game Freddy Fazbear's Pizzeria Simulator?
See more at the Poll Archive
Create blog post
Blogs
if you need to/want to talk to me, this is the best way ive got

Read more >

Henry. This will be something hard to cross.

Henry was the inventor of Chica,Foxy,Freddy and Bonnie. There may be many more but the 4 are the only known animatronics. Henry was the father of Charlie f…

Read more >

OK. With FFPS out,we can piece together the Afton's story. Let's begin.

Somewhere in the late 1940s,William Afton was born to a alcoholic father and a teenaged brother. His mother died or left when Wi…

Read more >
See more >
Ad blocker interference detected!
Wikia is a free-to-use site that makes money from advertising. We have a modified experience for viewers using ad blockers

Wikia is not accessible if you've made further modifications. Remove the custom ad blocker rule(s) and the page will load as expected.