About Five Nights at Freddy's
Five Nights at Freddy's is a horror game that features you as an underpaid worker at Freddy Fazbear's Pizza, a Chuck E. Cheese-type family pizza place, hired for an incredibly fulfilling job as a night guard.

Five Nights at Freddy's has a very mysterious story, which can quickly become confusing. Our goal on this wiki is to keep the information as clear and precise as possible to avoid confusion or rumours. All of our information is tested multiple times before being added to any articles, so please be sure you test any new information you have to bring to the table. It's so easy to get lost and confused in these games, so let's work together to keep things clear, precise, accurate, and easy for everyone to understand. Please be sure to read the Rules and Guidelines for more before you begin editing. Thank you!
Are you looking for information about FNAF World?
Check out the FNAF World Wiki!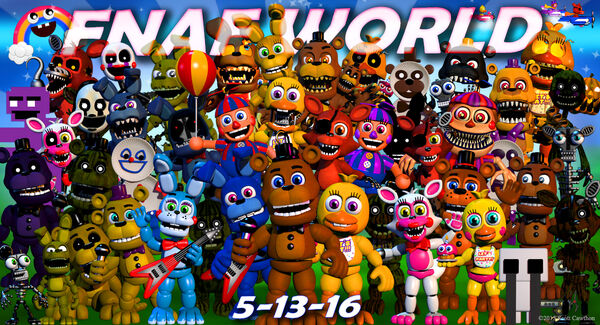 Who is the scariest animatronic from the new Five Nights at Freddy's: Sister Location trailer?
See more at the Poll Archive
Create blog post
Blogs
Why anyone would get the idea that Michael Afton is a robot that eats popcorn is really hard to swallow. He was human before Ennard took over his body, not a robot that eats popcorn. Also, William is…

Read more >

Hey folks.

I've been gone for quite a while. I've been working for most of my summer break. Sorry for turning work into my life. I had to make money, y'know?

I'm here now to be a bit more active now th…

Read more >

Hi My Name Is Shahzaib Mujahid Khan. I Am 11 Year Old welcome your kind and friendly suggestions to improve this page. Thank you all.I love the Uncharted When I was 9 Year old I like the Five Nights …

Read more >
See more >
Ad blocker interference detected!
Wikia is a free-to-use site that makes money from advertising. We have a modified experience for viewers using ad blockers

Wikia is not accessible if you've made further modifications. Remove the custom ad blocker rule(s) and the page will load as expected.